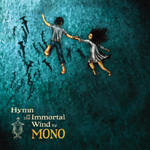 Le début d'année 2009 sera très chargé pour le briantissime quatuor mono. Le groupe sortira tout d'abord  un nouvel album, leur 5ème, trois après leur dernier album original. Intitulé Hymn To The Immortal Wind, l'album sera disponible le 4 mars 2009 au Japon, avant de se retrouver dans les bacs le 24 mars en Amérique du nord (Temporary Residence Limited) et en Europe (Conspiracy Records).
Tracklist:
1. Ashes In The Snow (Ecouter le morceau)
2. Burial At Sea
3. Silent Flight, Sleeping Dawn
4. Pure As Snow (Trails of the Winter Storm)
5. Follow The Map
6. The Battle to Heaven
7. Everlasting Light
De plus le groupe fêtera ses 10 ans comme il se doit et surtout pas n'importe où puisque le groupe prendra possession de la Society for Ethical Culture Concert Hall à New York le 8 mai prochain. Pour cet anniversaire qui s'annonce grandiose le groupe sera secondé par un orchestre de 23 pièces dirigé par Jeff Milarsky.
Et comme jamais deux bonnes nouvelles sans trois le groupe vient aussi de communiquer les dates de sa future tournée européenne. Juste avant d'arriver en Europe le groupe se produira au Unagidani Sunsui d'Osaka le 11 mars 2009 et au Liquid Room de Tokyo le 14 mars 2009. Puis le groupe débutera sa tournée européenne le 20 mars 2009 et se produira 6 fois en France avant un final en apothéose le 8 mai au Society for Ethical Culture Concert Hall de New York. Concernant la France le quatuor sera à Lille le 27 mars, à Montpellier le 16 avril, avant d'être à Toulouse le 19 avril, à Bordeaux le 20, à Nantes le 21 et de terminer ses dates françaises par Paris le 22 avril.
Mar 11
Osaka, JP
Unagidani Sunsui
Ticket
Mar 14
Tokyo, JP
Liquid Room
Ticket
Mar 20
Brighton, UK
TBA
Mar 21
Birmingham, UK
Hare and Hound
Ticket
Mar 22
Manchester, UK
TBA
Mar 23
Glasgow, UK
Stereo
Ticket
Mar 24
Sheffield, UK
Corporation
Ticket
Mar 25
Bristol, UK
The Croft
Ticket
Mar 26
London, UK
Scala
Ticket
Mar 27
Lille, France
TBA
Mar 28
Haarlem, Netherlands
Patronaat
Ticket
Mar 29
Hamburg, Germany
TBA
Mar 30
Copenhagen, Denmark
Loppen
Ticket
Mar 31
Gothenburg, Sweden
TBA
Apr 01
Oslo, Norway
TBA
Apr 02
Stockholm, Sweden
TBA
Apr 04
Berlin, Germany
TBA
Apr 05
Poznan, Poland
TBA
Apr 06
Leipzig, Germany
TBA
Apr 07
Prague, Czech
Republic Palac Akropolis
Ticket
Apr 08
Vienna, Austria
Arena
Ticket
Apr 09
Munich, Germany
TBA
Apr 10
Athens, Greece
TBA
Apr 12
Brussels, Belgium
TBA
Apr 13
Koln, Germany
TBA
Apr 14
Karlsruhe, Germany
TBA
Apr 15
St Gallen, Switzerland
Grabenhalle
Ticket
Apr 16
Montpellier, France
TBA
Apr 17
Barcelona, Spain
La[2]
Ticket
Apr 18
Madrid, France
Ritmo Y Compas
Ticket
Apr 19
Toulouse, France
TBA
Apr 20
Bordeaux, France
TBA
Apr 21
Nantes, France
TBA
Apr 22
Paris, France
TBA
Apr 23
Esch-Alzette, Luxembourg
Rockhal
Ticket
Apr 24
Tilburg, Netherlands
Roadburn Festival
Ticket
May 08
New York, NY
Society for Ethical Culture Concert Hall